Welcome to the Remo Marketplace
Your gateway to all the value-added services Remo has to offer…
What are you in the market for today?
Choose an option below to get started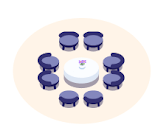 Purchase a
ready-made Remo floor plan
Connect with a custom floor plan designer
Contact a virtual event service agency
Browse through other virtual event services
DISCLAIMER: Remo is not involved in any deals, transactions, or negotiations initiated by this marketplace
Need some help getting your virtual events off the ground?
Shorten your learning curve, make the most of your resources, and maximize the impact of your events.