Custom Floor Plan Designers
If you'd like your very own bespoke floor plan but not quite confident in your graphic design skills yet… not to worry…
Connect with one of our trusted custom floor plan designers and allow them to bring your vision to life!
Long before we were creating Remo floorplans, we were designing for social media and in-person events. We know many of the struggles you face with clients, sponsors, and guests. Our favorite part of the process is getting to know you and understand your needs. We work closely with you to create inviting, easy-to-navigate floorplans that strengthen brands, set a mood, and inspire. We are a U.S. based company with extensive experience working with international clients. Reach out to discover what's possible: [email protected]
Telepresent specialise in bespoke tailoring on-line environments to perfectly suit your event and aims. From smart corporate conferences to relaxed socials, networking events to island retreats, and society soirees to stunning showrooms, we can conjure something that will impress your sponsors and delight your guests. Telepresent also have a range of high-class existing environments that can be tailored to fit your requirements, with enhanced branding, messaging, and specific seating arrangements.
Collab Virtual World provides a range of Remo design services to make your virtual events unique in every way. Our incredible 3D photo realistic floor plans are designed by venue architects that can custom build in intricate detail any space you can imagine. With a choice of existing floor plans within our comprehensive library or a completely bespoke service; our team of designers will elevate your event to the next level.
The ACE Virtual Events team is dedicated to blending imagination with reality. Whether it's a small gathering or lavish affair, we'll customize the room to suit your vision. With our service, we can create unreal environments that will delight and surprise guests of all kinds! From branding the floorplans to creating rich and engaging custom spaces for them. Rest assured when using us: Our team knows how important every detail is in making an experience memorable so they don't miss anything while designing from start to finish. With 100+ floor plans submitted to date, we've done it all.
Hey there from Pixel Fox Designs, your home for pixel art style Remo floor plans. Add some fun to your event in the style of retro video game classics. Choose from one of our pre-made designs or commission one just for you. Whatever you need, we can make it happen!
We are passionate about Remo and run 35 events a month on the Remo platform - we have designed many floorplans for our own uses and our clients. We love to use Remo in creative ways and are happy to share our ideas with our clients.
Fast, reliable, and affordable! Our designers have created several high-quality custom remo floor plans. We are highly experienced with the remo floor plan layout and our customer service is top-notch. Our custom floors range from quick edits to custom creating your very own world in a floor plan! Excellent customer service and quick turn around. Quick edits starting at $150, custom floors starting at $375! See what we have made here: https://www.sumofus.co/floor-plans.
Hello! I am Japanese. I accept the production of Remo's custom floor designs. Please contact me by email from the messenger. Messenger address:https://m.me/r.kurogo/ E-mail address:[email protected]
We're an A-Z virtual event management agency with over 20 years of experience in the events space. We specialize in event strategy, custom floor plan designs, and operational management. Our floor plan designs range from sport stadiums, escape rooms, media production launches, corporate settings, country clubs, and much more. Whatever you think of, we can design it! www.cloudeventsgroup.com
Tekie Geek offers Virtual Events services for the Remo Platform including Virtual Event Planning, Virtual Event Run of Show Services, Production, Custom Floor Plan Designing, and more.
No matter if you are searching for the perfect floorplan or if you need a partner in crime for your whole event - we are here! What we already have experience with is International Meetings & Summits, Christmas Parties, Fashion Shows, Sport & Workout Parties, Pitch-Presentations, Club Evenings, Marketing Presentations, and much more! Hooked? We are looking forward to getting in touch with you!
Want to become a Custom Floor Plan Designer?
Submit your portfolio below!
Want to continue exploring the Remo Marketplace?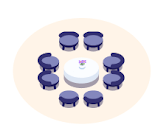 Purchase a
ready-made Remo floor plan
Contact a virtual event service agency
Browse through other virtual event services
Need some help getting your virtual events off the ground?
Shorten your learning curve, make the most of your resources, and maximize the impact of your events.