Here are some other services you can consider for your next virtual event!
Meditation breaks for your event. Most techniques take 5 minutes or less. Choose a mood to align with (focused, relaxed, cooperative) and I will guide your audience into the appropriate brainwave state so they are in tune with their highest potential and showing up as their best self during the event.
Odd-o-T's Entertainment brings live performers to your event to animate your spaces and excite your patrons. Our troupe of improv performers, acrobats, magicians, game leaders, dancers, and comedians are all Remo trained and ready to take on any role and help you achieve your event goals. Our performers are skilled at helping your patrons engage and interact with each other...the perfect ice breaker for any theme. Full costumes available and themed virtual backgrounds to increase immersion for your guests. Your event won't just be another video conference event...your guests will never forget the connections and laughs! Get inspired on our website: www.oddots.com
We produce Puzzle-Based, Virtual Treasure Hunt Adventures, with strong teambuilding content. Small teams solve tricky puzzles leading to amazing locations around the world (on the internet). People have fun while learning more about themselves and their teammates. Let's talk about transforming your next event into an engaging treasure-hunt adventure.
We're an A-Z event management agency with over 20 years of experience in the events space. We specialize in event management, Remo custom floor plan designs, sales/sponsorship activations, and Virtual Reality experiences for events. www.cloudeventsgroup.com
Virtual Party Radio Station
Virtual Party Radio can help take your event to the next level with background music tailored specifically for your event. We work with you to provide the perfect mix of music. For your sponsors, we create 10-20 second spots to play throughout the event. One more option to add to your sponsorship package. Our station opens up in a second tab, so the volume for the event and the radio station are controlled separately. Your guests decided how soft or loud they would like their music to be. VPR is the best legal way to play music, as we are DMCA compliant as well as licensed to play music in the UK, USA, and Canada. Virtual Party Radio: Providing Music for Virtual Events.
Above and Beyond VIP Concierge
Above and Beyond VIP Concierge (ABCVIP) is changing the game in virtual events. We are The Experience Experts™ and pride ourselves on making our clients' lives easy from conception to completion. We have a massive network of partners that bid on our inquiries to ensure options that fit our client's budget and needs. Each event is expertly tailored with a wide range of add-ons from our network, high-energy hosting, & positive takeaways. Some add-ons include, but are not limited to: Trivia, Talent Shows, Competitions & Scavenger Hunts, True Murder Mystery, Mixology Classes, Private Concerts & Plays, Magician Shows, Curated DJ sets, LED Light, Fire, Aerial, or Contortion Shows, Meditation, Yoga, Reiki, & Integrative Wellness Sessions, Team-Building activities And if there is something you are looking for that you are not seeing on our list, just ask! We can accommodate any needs - we look forward to impressing you!
A marketplace of team-building experiences for distributed teams
Matt Daniel-Baker is THE MIND READER
I am a professional Mind Reader & Mentalist, specializing in Corporate and Private events. My award-nominated act is perfect entertainment for VIRTUAL SHOWS. Whether it's 5 minutes or 1 hour that's needed, I can deliver a Fast-Paced, Jaw-Dropping, and Hilarious Mind Reading Show. In the last 15 months, I have performed my virtual show all over the world.
Keelan Leyser – Virtual Magic and Mind Reading Show
Prepare for your mind to be blown! Join us for an experience like no other. Keelan Leyser, World renowned Digital Illusionist, will provide you with a fully interactive, virtual digital magic and mind reading show that happens right through your screen. Keelan Leyser has been on over 100 television shows, performed in over 60 countries, he was voted the British Magic Champion by his peers in the UK. Keelan has hundreds of thousands of followers across social media and his videos have racked up tens of millions of views. Please join us for a one of a kind close up interactive experience you won't forget.
The Escape Game is the #1 virtual escape room company in the world. We've created Unlocked for Teams which is a game designed for virtual events like yours! Groups are split into teams of 7-8 "secret agents" all working together to solve a crime as quickly as possible while also competing against other teams for the ultimate prize – bragging rights. The first team to complete their mission, wins! Events can take place any day, at any time. It's challenging, thrilling, bonding, really fun, and best of all: really easy to book. Contact us to find out how to take your event to the next level and make it memorable for every single guest!
If you're looking for virtual fun that's original and out there, stop right here.
We offer a series of unique, quirky, intellectually rich social fun activities all led by top talent and we've run events here on Remo, for Remo itself!
We also make awesome, fancy-shmancy event kits, including raw ingredient packages, cocktail kits, art, chess, and custom packages and promotional materials.
Sample events include:
Freestyle Rap Show (interactive, freestyle rap)
The Steak Out (virtual steak dinner cooking event)
Wine, Dine, & Rhyme (wine tasting + food element + freestyle rap)
It's Chess Time (chess strategy talk and tournament with a chess champion)
Salsa Dance Party (DJ & salsa dancing)
Name That Tune Gameshow
Coral Creations, an Environmental Art Night
The Queen's Gambit (exploration of the chess of the series)
Tortilla Night
Wine & Comedy
Magical Drinks
We can also build a custom event for your needs using our talent. Get in touch at
[email protected]
Syncwords offers Captioning, Subtitling, and Translation services for Live Virtual Events, and pre-recorded videos. We can translate to over 100 languages in real-time, and for pre-recorded content.
American Sign Language Interpreters: We can provide 1-6 ASL interpreters to give deaf/HH attendees access to your event. Diversity & Inclusion Assistance: We will help empower underrepresented groups to feel more valued and respected at events by staffing and/or trainings. Diversity & Inclusion trainings or Allyship in the Workplace trainings are perfect for corporate or workplace events in order enhance interpersonal skills and create company and individual success.
Wellness Session and Facilitators: Choose from Tarot & Astrology Readings, Nutrition & Cooking Demos, Mixology with Cocktails & Mocktails, Distance Reiki Healing, Conscious Relationships, Overcoming Imposter Syndrome, Managing Chronic Pain, How to Work From Home Sessions, and more!!
Creative Twist Inc. – The Event Storyteller
Every event has a purpose, a core message...a story to tell. At Creative Twist Inc. we help organizations and brands dive deeper into their core message and bring their event stories to life through CREATIVE IDEATION, STRATEGIC EVENT DESIGN & IMPLEMENTATION. Be it Virtual, Live, or Hybrid - our award winning team will help you craft an experience that will communicate your unique story and resonate with your attendees. What stories can we help you tell?
Many of us struggle with last-minute tech glitches. Techiefriends can assist your virtual event attendees with any tech issue and help them connect to your virtual event. We provide online tech support that is very safe (full recording of how the tech problem is resolved is shared with the customer) and extremely easy to use. Techiefriends.com tech support services are top-notch and at the same time highly affordable, extremely safe, and easy to access.
Businesses need a smooth customer service process in order to be successful, and that means having support available so you can address the needs of your guests right away. Not all events are created equal – but with ACE Virtual Events phone support for your event, our experts will guide attendees through any questions or troubleshoot any issues they may have to get them up and running as quickly as possible!
Make your virtual event a complete success with eSAX Virtual Events! Our ONLY role is to ensure your guests have an exciting & trouble-free experience. We provide 'day-of' live tech support to assist with any technical issues your attendees may have. From camera/microphone problems to platform functionality, eSAX will get your attendees up and running in no time. Every event is a direct reflection of your credibility. When you want attendees to walk away saying it was the BEST virtual experience they ever had, eSAX Virtual Events will make it happen with our in-event tech support services.
Jackie Botelho of Above and Beyond VIP Concierge
Above & Beyond VIP Concierge (www.abcvip.nyc) is a Hospitality and Event Agency from New York City. The Founder, Jackie Botelho, brings high-energy and seamless attendee engagement to every event that she hosts.
Hosting & Improvisation Leaders: If a speaker is late, no worries! An improv leader is there to engage the audience and make them laugh so that issues go unnoticed!
Picking the right host for your event can make all of the difference, especially when it comes to experience. When you need someone who knows how to stay cool under pressure and keep an event on schedule as well as they know their way around the platform - trust that ACE has got this locked down.
Presentation & Speaker Support
Events and conferences can be a great way to do business, but they are more than just networking. Presenters are the ones in charge of giving a powerful speech on behalf of their organization or company. Speakers need all the tools possible before anything is needed and we can help! We come to their rescue with a complete package, we help prepare speakers and give them every tool possible before anything happens on stage or behind-the-scenes. Ensuring a smooth presentation that everyone can enjoy!
Badassery Speaker Marketplace
Badassery is a public speaking marketplace for diverse voices. Bookers can browse speakers from the likes of The New York Times and Peloton, filter by their needs, and book speakers directly based on their availability. We cut out the back and forth coordination with speakers, give transparency in pricing and provide an opportunity to find truly diverse experts who can share their wisdom and knowledge with audiences in a captivating way.
Gotham Trinity Productions
Gotham Trinity is a multi-purpose media production company. What started as a few short films and skits, transformed into commercials, promotional videos, testimonial videos and evolving into multi-camera, live or pre-recorded broadcasts to the web, that includes roll-ins and customized graphics. We have a professional roster of tech, actor and model talent, to help a business produce a visual product that makes sense for their budget and audience. We can be on site for speakers and be able to virtually add others from the comfort of someone's home or office. GTP has numerous virtual experiences under our belt and can produce professional content to suit your needs.
Do you have a service you believe is valuable to virtual events?
Contact us and let us know!
Want to continue exploring the Remo Marketplace?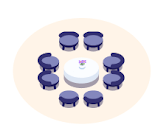 Purchase a
ready-made Remo floor plan
Connect with a custom floor plan designer
Contact a virtual event service agency
Need some help getting your virtual events off the ground?
Shorten your learning curve, make the most of your resources, and maximize the impact of your events.